Common Carp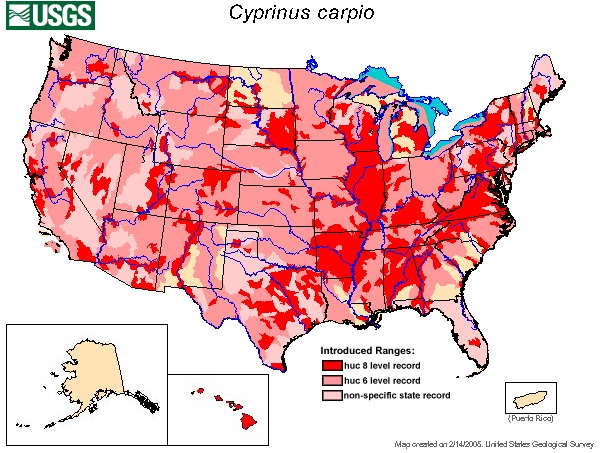 Habitat
Carp are native to Europe and Asia but have been introduced to every part of the world except the polar regions. Carp are incredibly tolerant of many water conditions, a condition that helped spread them around the world. If they had a preference, it would be significant bodies of still or slow moving water with a soft bottom and a lot of vegetation. They survive in temperatures from 37 to 95 degrees and thrive in water 73-86 degrees. They can tolerate high levels of contaminants in the water as well as low oxygen levels since they can gulp air from the surface. They even do well in brackish water.
Common carp were brought to the United Staes in 1831. Through escape and stocking, they have spread throughout the country. They were initially introduced as a food fish, but the fish never became popular as a food source.
Description
Common carp can grow to immense size in some environments. The can exceed 100 pounds and almost 50 inches in length. The oldest known carp survived for 38 years. In addition to the common carp, there are mirror carp, leather carp, and grass carp distributed throughout the United States, but the common carp is most sought after by anglers.
 
Feeding Habits
Carp feed upon a variety of aquatic insects, crustaceans, zooplankton, benthic worms, and crayfish. They also include aquatic and terrestrial plants (including seeds and berries) in their diet.
 
Spawning
Carp spawn in the spring in weedy, shallow areas 2-3 feet deep. They prefer to spawn when water levels are on the rise and are capable of spawning multiple times in a season.
Effective Fly Patterns
Since carp feed on aquatic insects and crustaceans, flies that imitate these food forms are most effective. Nymphs, worm and crayfish imitations all do reasonably well with carp. The carp is a very intelligent fish with highly tuned senses to help it find food and avoid predators. This can make them a challenge to catch on a fly in many conditions. you must approach them with a high degree of stealth and make an accurate presentation to elicit a strike.